Traditionally, the Pesach season is a time of particular need for yidden – and a time of greater generosity.
Individuals and organizations rely heavily on their community to get through the extra expenses inherent in this time of year, while seizing the opportunity to grow their social cause and mission in the process.
Especially with fundraising becoming more virtual than it ever has been before, the The Chesed Fund represents a perfect solution for online fundraising, with a suite of tools that have helped individuals raise tens of millions of dollars for their causes and needs.
Here are some of the great reasons people choose The Chesed Fund:
Premium Features
For organizations that need the best, The Chesed Fund offers several premium tools to help maximize their fundraising efforts. These include:
Fundraising Teams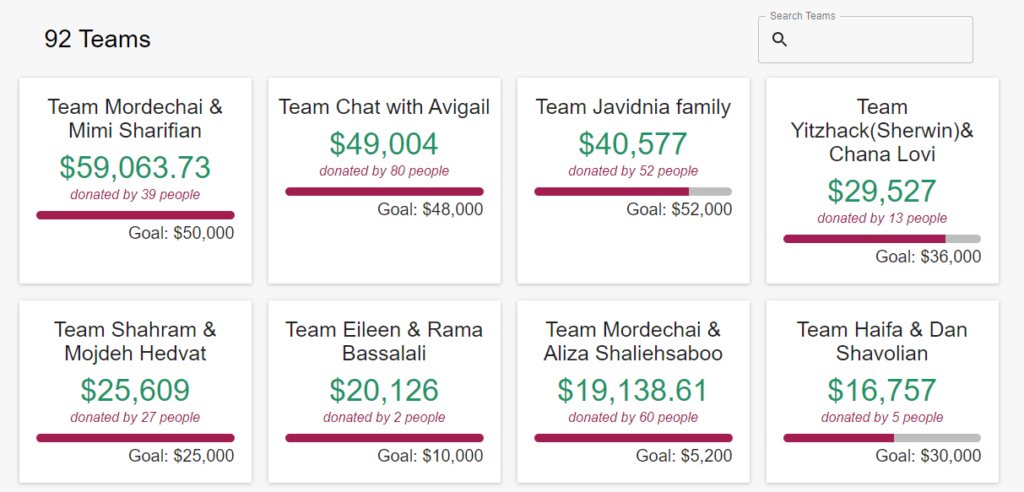 By quickly allowing your lay leaders to have their own "mini campaign" with its own crowdfunding goals, you can delegate your efforts into bite-sized milestones that feed back in to your main campaign.
The Great Neck Kollel used this feature to great effect in their campaign, raising close to $700,000 and exceeding their initial goal with the help of 92 teams that reached out to their own networks.
Preset Donations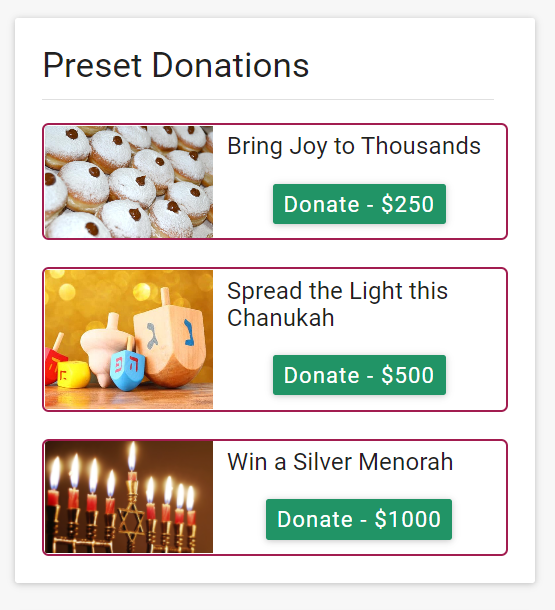 You can use Donation Presets to create pre-defined suggested donation amounts, along with a creative title and photo. This information is then associated with the donation both in the list of donations as well in The Chesed Fund dashboard, where you can view it or download it as a spreadsheet.
This will feature allows for several creative applications, from offering gifts or raffle tickets to certain donation tiers, to recognizing donors who have made larger donations.
Dial to Donate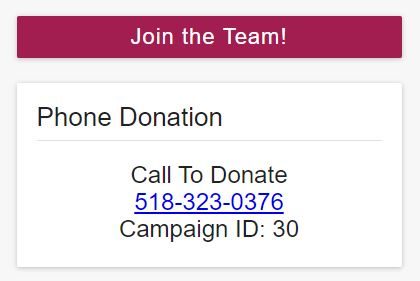 Dial to Donate is a way to raise funds from donors without them even visiting your website. It is perfect for an audience that does not have access to the internet, or for marketing your campaign in offline locations, using newspapers, flyers, or text messages.
Every premium campaign on The Chesed Fund automatically gets a dial in number and a unique campaign ID number. By simplify providing this number and ID to your donors, they can dial in and submit their payment information over the phone.
The Chesed Fund reputation
The Chesed Fund has been helping individuals and organizations raise funds for their causes for over 5 years now, and is one of the technological pioneers in the Jewish Crowdfunding world.
We've helped raise over $50 million so far, and every month we raise another $2 million more for causes like yours.
Outstanding Support
From day one, our commitment was to assist others to raise the most they can for their causes. We provide personalized support during every step of your campaign, and can help you with your strategy, setup, or any question you may have.
Our friendly and experienced staff is available via phone, chat, and email to assist you in the way that works best for you. We've seen hundreds of campaigns succeed and are happy to advise you on best practices and effective strategy- free of charge!
Simple Signup
Getting started on The Chesed Fund can be done in minutes, at your own convenience. We've built the platform to be simple and easy enough to set up with no previous experience, so you can get started raising funds in hours, not weeks.
At the same time, our staff of support specialists, campaign advisers, and creative service providers are available to assist you every step of the way and help ensure your campaign exceeds your crowd funding goals.