Have you ever wondered who your top donors are, across multiple crowdfunding campaigns?
Do you wish you could see which of your donors has yet to contribute to a given campaign, so you can personally reach out to them?
It is a well-established fact in the world of fundraising that connection with a past donor is the most valuable relationship you can maintain. People who have already given to your cause are more likely to do so again in the future. They believe in your mission and have already acted upon this belief in the past. Now all you need to do is act.
The Chesed Fund's newest feature, Donor Retention, makes this process of identifying your key relationships easy and straightforward.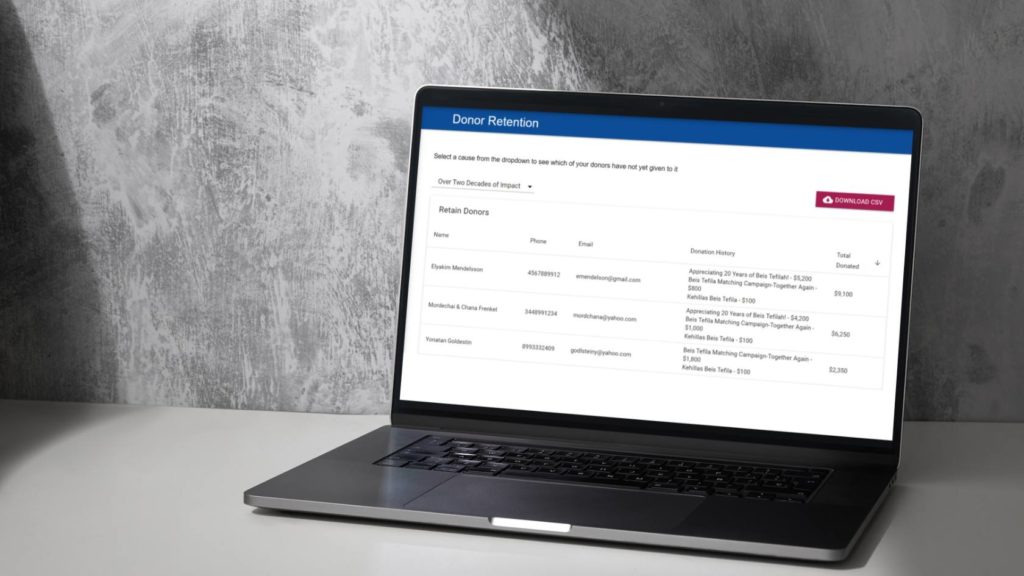 Simply visit the Donor Retention page and view a summary of all your donors from largest to smallest cumulative contributor. And with a selection from a dropdown menu, you can select any campaign and view which donors have not given yet, arranged from highest to lowest past cumulative donations.
This means that it's never been easier to see which of your most generous supporters has yet to contribute to a campaign you are currently running – and give them a call.
The best part? The more you use The Chesed Fund for your different fundraising needs throughout the year, the more valuable the data becomes, as the historic behaviors of your donors are instantly reflected whenever you need them.
Donor retention is the latest feature of The Chesed Fund's suite of premium digital fundraising tools and is automatically available to all premium accounts.
Start your next Chesed Fund campaign today!