Fundraising is a crucial activity for any nonprofit organization or community project, but it can also be challenging and time-consuming. One of the biggest challenges is how to accept donations from supporters in person, especially when they are not on a digital device, such as at shul or at events.
That's where The Chesed Fund's credit card processing kiosks comes in. These solutions that enable you to collect in-person donations and accept payments in the physical world.
With a fundraising terminal displayed in a prominent area, you can now raise funds for your shul or institution on autopilot. Read more to learn how it works.
The User Experience
Here is what a user experiences when they use the fundraising Kiosk:
By default, the Kiosk can have a home screen with a design of your choosing.
Once they tap on this, they are taken to a screen where they can enter the amount they want to donate using on on-screen keypad. If you have preset donations added to the linked Chesed Fund campaign, these will appear as the default donation options. So for example, it is easy to create preset donation amounts such as $18, $36, $180.
Once they select the amount, they are taken to a screen where they are prompted to insert their physical credit card into the Kiosk's card reader.
After a few seconds, the card will be processed and charged. The donor will then have the option of adding their name, email, and phone number in order to receive a receipt and remain in contact with you.
How it works
Getting started with your own Chesed Fund terminal is easy:
Simply order your own terminal from the Chesed Fund dashboard.
We'll send you the tablet, card reader, and mounting brackets for both, ensuring you are immediately ready to get started. (see technical specs below)
Install The Chesed Fund app on the tablet and link it to a dedicated cause within your Chesed Fund dashboard.
Pair the card reader to the tablet via bluetooth.
Install the physical tablet and card reader in a prominent location and start raising funds on autopilot!
How much does it cost?
The cost of your own fundraising terminal is simple and transparent, with only two components:
When you order, you pay a temporary security deposit of $650, which will be refunded to you once you're terminal raises $15,000, which essentially means all the hardware is included for free once you meet this threshold.
You'll pay 5.9% + .30 cents on all funds processed through the terminal.
Technical Specs
Here's what's included with each terminal:
Tablet
Samsung Galaxy Tab A7 Lite
Screen size: 8.7″
Storage: 32GB
WiFi enabled
OS: Android
Frame: Sturdy Silver Metal Frame
Version: US Version, 2021
Mounting Bracket
Anti-Theft Acrylic Enclosure for Galaxy TAB A7 Lite
Supports 8.7″ Tablet 

Wall Mount Kit 

90-Degree Angle USB C Cable 

Color: White

Dimensions: 160mm (Height) x 25mm (Depth) x 242mm (Width)
Weight : 1.1 lb
M2 Card Reader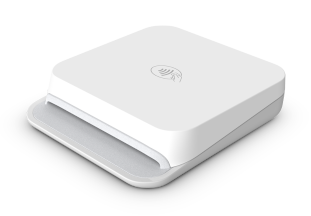 EMV chip card reader (ISO 7816 compliant class A, B, C card)
Communication: Bluetooth® 4.2 BLE, USB
Lithium polymer rechargeable battery 520mAh, 3.7V, charging Via USB-C
Size: 73.5 x 67 x 19.5 mm / 2.89 x 2.63 x 0.76 inch (approx.)
Weight: 85g /2.99oz (approx.)
Comes with a custom mounting bracket for the reader.